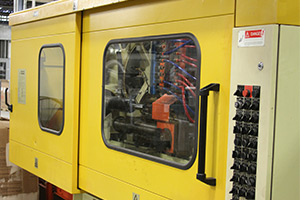 Injection Molding
Success in plastic injection molding is determined by the complex combination of both part and tool design with material selection and process control. At MarCon, our sales and engineering staff are fully prepared to assist in your part design utilizing our CAD software. The proper tool design and construction are integral to our mutual success. Also, using CAD and working with the finest tool makers in the country, we design and build tools for optimum performance and minimal maintenance.
To complement the solid foundation laid for your project, our molding technicians are thoroughly trained on the use of our Husky equipment at Husky's Advanced Manufacturing Center. Additionally, we keep abreast of the latest equipment advances and innovations in processing techniques.
The process may involve a variety of resins, each with certain physical characteristics and/or a variety of colors. Injection molding provides the closest tolerances, or greatest precision, of any plastic conversion process, as well as a higher productivity by the use of molds of multiple cavities.
From initial part design to delivery of your plastic component, we provide the essential tools. These tools complete the formula for success, resulting in exceptional value, which is top quality parts, aggressive pricing and a focus on service.

Form Ideas. Display Solutions. MarCon, located in the Kansas City area, is a manufacturer of injection molded, blow molded and thermoformed plastic components for custom applications as well as the p...