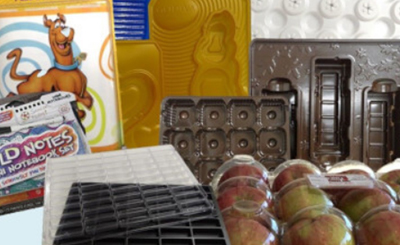 Form Ideas. Display Solutions.
MarCon, located in the Kansas City area, is a manufacturer of injection molded, blow molded and thermoformed plastic components for custom applications as well as the packaging and display markets. MarCon originated in the KC area in the late 1930's as an industrial manufacturer providing wire formed and sheet metal components for the war effort under the name of Hume Mfg. In the early 1960s, we changed our name to what it is today and began manufacturing POP (point of purchase) displays manufactured from wire, sheet metal and/or plastic components.
Early on, our primary process for manufacturing plastic components was thermoforming, also known as vacuum forming, in which we primarily utilized to support our customers in the POP market. In the mid to late 1980s, we began manufacturing packaging components utilizing the thermoforming process and then later added injection molding and blow molding processes to our capabilities; and we still manufacture components with those three processes today. We currently specialize in high-speed thin wall packaging applications with clamp tonnages ranging from 90 tons to 660 tons. All our injection machines are equipped with 3 axis robots to reduce cycle times and promote a more efficient manufacturing process. Our blow molding machines are currently utilized to manufacture containers for the wipes industry but have the capabilities of manufacturing other components as well.
Taking your ideas to market.
At MarCon, we work with advertising agencies, industrial designers, stylists and artists from many fields to create the display that will present your products most favorably. Because after all, a proper display is an investment in increased sales. And we want to help you achieve the display your product deserves — all at the most competitive prices.
So wherever you are in the development and merchandising of your idea, let MarCon be your display solution provider.