Custom Thermoformed Plastics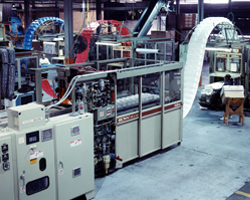 Custom Thermoformed Plastics
MarCon provides a broad range of thermoforming capabilities. Our John Brown equipment includes coil-fed, in-line presses with integrated trimming, three-station rotary formers and single-station formers. This variety of equipment allows us to compete on almost any thermoforming application, from small runs of industrial components to multi-million part packaging runs.
Most thermoformed components require some secondary trim or finishing operation. We have in-house wood and metal shops in which we design and build the jigs and fixtures to accomplish these tasks. Patterns and molds used in thermoforming are also constructed in-house.
Depending on part design, thermoforming can often provide significant cost advantages over other processes. Tooling investment may also be less costly than for other processes. We have supplied thermoformed parts to a diverse customer base for more than a quarter century. In this time we have honed our expertise in a manufacturing discipline which many consider an art.
Specific capabilities for the Plastics Division include:
Vacuum and pressure forming, rotary press, 48 x 72 frame

In-line coil-fed, 30 x 30 frame
In-line coil-fed, 14 x 20 frame
Various single-stage presses

Custom product design
Material selection
Mold maintenance
Automated mechanical assembly
ABS
polystyrene
polycarbonate
PETG

Form Ideas. Display Solutions. MarCon, located in the Kansas City area, is a manufacturer of injection molded, blow molded and thermoformed plastic components for custom applications as well as the p...