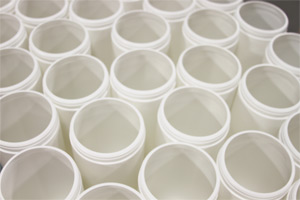 Blow Molding
Our Battenfeld and Bekum extrusion blow molding equipment allows us to manufacture products using polyolefin thermoplastics. We utilize shuttle machines which run two molds concurrently, providing twice the normal rate of production. All machine functions are microprocessor controlled assuring one of the highest degrees of control available. The combination of high speed and consistent production allows us to fulfill our customers' needs on time and at the right price.
Specific capabilities for the Plastics Division include:
Blow molding containers up to one gallon F-type
Custom product design
Material selection
Mold maintenance
Automated mechanical assembly

Form Ideas. Display Solutions. MarCon, located in the Kansas City area, is a manufacturer of injection molded, blow molded and thermoformed plastic components for custom applications as well as the p...
Contact
500 NW Platte Valley Dr, Riverside, MO 64150.
(816) 471-2327
info@marcon-marketing.com